Architectural talent on display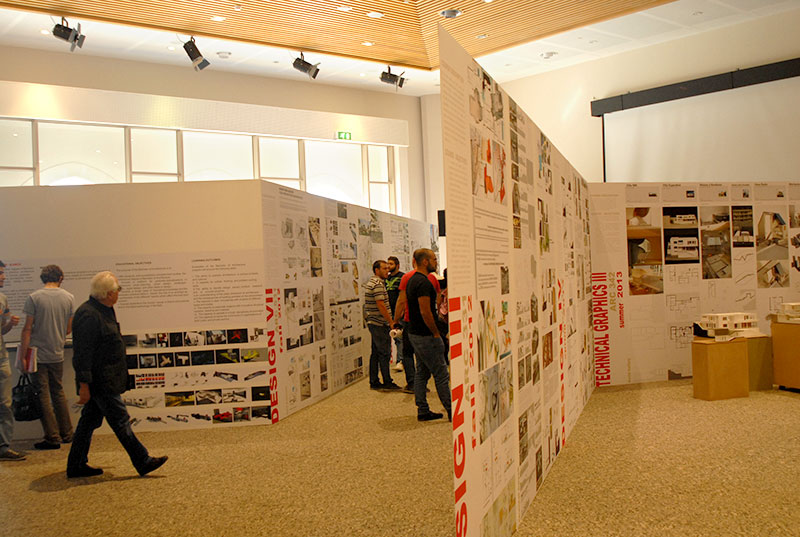 Frem Civic Center was a hive of architectural chat as students, alumni, faculty and LAU President Joseph G. Jabbra gathered October 30 for an exhibition of student projects, from foundation to senior year.

Organized by Dr. Maroun Daccache, associate professor of architecture, the exhibit showcased proposed solutions to real design problems in Lebanon.

The final projects dealt with a wide range of urban issues. Nour Zoughby's Beirut Waterfront Terminal, produced for a spring 2013 course, showed an elaborate public transportation hub in Beirut's Central District to address this pressing need in the country.

"The project proposed is a transportation hub that would connect the city through its infrastructure and the maritime [industry]," she wrote. "The project aims to transform the city's urban situation status," she added.

Another 2012–13 studio class under the theme Crossing the Lines: Architecture and the Politics of Integration, investigated Beirut's former Green Line area in Chiah–Ain el Remmaneh, that divided the city in two during the Lebanese civil war. Students were asked to explore ways to overcome the psychological barrier of the dividing line.

Recent graduate Aziz Barbar designed the Center for Economic and Cultural Exchange in the area — a sprawling modernist structure breaking through the area's division. His aim was to "redefine and reuse the street in a new way and trigger a metamorphic process that will lead to a gradual transformation," he said.

The items on display included the creative process and final renderings for each project, so that visitors could observe the creative vision and development of skills of our students.

The NAAB accreditation team, during its process of assessment in the school's application for accreditation, had earlier visited the exhibition. Dean Elie Haddad was pleased with the positive feedback received, noting the assessors were particularly impressed by the school's collectivism.

"What distinguishes a school in the end is not the efforts of one person but this collective effort and this capacity to bring people, from a variety of backgrounds together," Haddad said.