LAU Faculty Member Hosts Debut Session in AIGA Series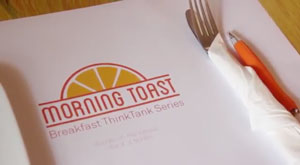 Hani Asfour, an instructor in the Foundation Program, was invited by AIGA Middle East to host the group's debut edition of Morning Toast, a breakfast think-tank-style series of discussions about design.
He was asked to speak about the future of design, "which was perfect for me since my academic research is about building models to predict the future of design."
"We are a nation of small boutique design studios, so it's very good to be exposed to others who face the same issues and problems," says Hani Asfour, who in addition to teaching, heads Beirut design firm Polypod.
Asfour had previously spoken about his research work to a large audience at TEDxBeirut. However, this informal discussion held at —and sponsored by— Dar Bistro, was an opportunity for intimate discussion among nine design professionals.
"We chose the topic to coincide with the 100th anniversary of AIGA," explains Middle East chapter volunteer (and SArD alumna) Farrah Berrou, who works as an art director at Leo Burnett. "We want to give design a voice in the region collaboratively and so we have held networking events and screenings since our launch a year ago," she said.
As president of Beirut Creative Cluster, Asfour is himself no stranger to initiatives that promote collaboration between designers. "Collaboration is not inherent in our culture, and so I embrace opportunities such as this one that allow for conversation and co-creation," he said.