Why Is Lebanese Design so Indistinct?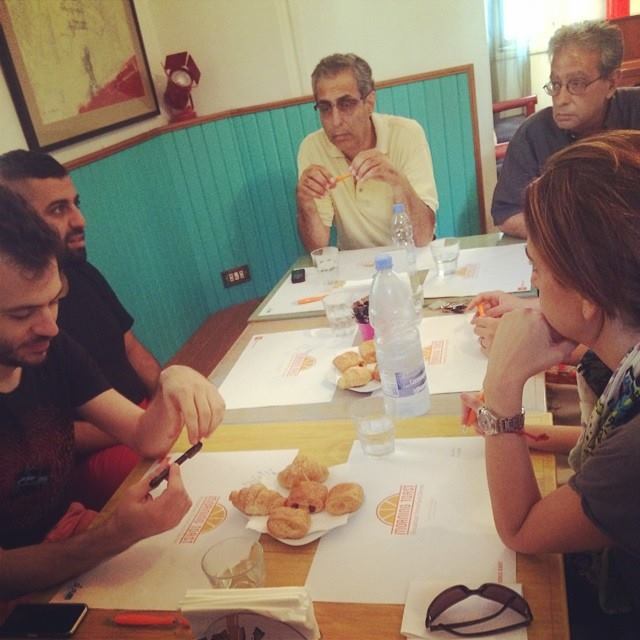 Morning Toast, a series of discussions about design in Lebanon, launched back in March with Hani Asfour as debut guest host. Later on in the summer, series organizer AIGA Middle East again tapped on LAU's faculty for the third meeting.
LAU typography instructors Khajag Apelian and Kristyan Sarkis led a discussion about Arabic design.
We start by teaching the anatomy of the letterforms and then the word and sentence and paragraph," explains Apelian, who teaches introductory, intermediary and advanced typography. "The main ideas and exercises are Latin based but we try as much as we can to incorporate the Arabic script in the curriculum."
The predominant use of Latin script in Lebanese design was identified as one of the reasons behind the lack of a strong or unique identity in Lebanese design.
"You can instantly identify Dutch design," said Sarkis, who lives between Amsterdam and Beirut. "European countries have developed their skill and identity over decades, but we still don't appreciate design enough and there remains a lack of knowledge about the Arabic script," he said.
Design in Qatar, says Sarkis, is more advanced but not authentic to the culture. "They use the Arabic script, but you can tell that British designers prevail in Doha through the resulting design aesthetic," he said.
A lively discussion among the 11 attendees, gathered around a breakfast spread at Dar Bistro, centered on the difficulty in both identifying and developing Arabic design.
Zeroing in on Lebanon, the group discussed the effect of academia, national identity and commercial budgets on the country's weak design identity.
A lack of commercial investment in design —due in part to a lack of appreciation for the field but also an economy based on small businesses— results in a lack of experienced designers, some argued.
A weak or patchy national identity, argued this writer, is reflected in Lebanon's commercial design which adversely affects the country's urban aesthetic, made up as it is of billboard adverts, shop front windows and the like, all seeking to grab the attention of a consumer they don't reflect.
Should you want to share your thoughts at the next Morning Toast session, check out AIGA's facebook page at https://www.facebook.com/AigaMiddleEast