Living in Buenos Aires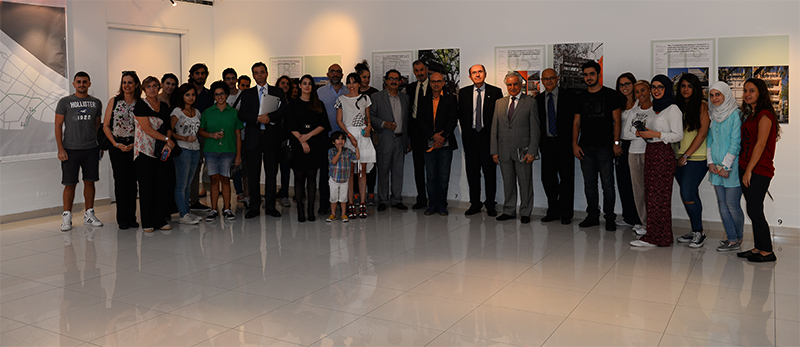 Beirut and Buenos Aires shared visions of future urban possibilities on September 22, when two visiting Argentinian architects gave a lecture at Wadad Said Khoury auditorium and curated an exhibition at Sheikh Zayed Hall, under the title Living in Buenos Aires. Architect and curator Brenda Gimenez and Professor Héctor Lostri, general secretary for urban planning of the metropolitan area of Buenos Aires, faculty member at the University of Palermo and visiting professor at the University of Buenos Aires, travelled to Lebanon at the invitation of the Lebanese American University's School of Architecture and Design.
Brenda Gimenez presented a comprehensive lecture about how radically the urban fabric of Buenos Aires has changed over the past century. She highlighted the importance of contemporary low-rise housing projects in creating strong links to the city's architectural and urban past, while simultaneously paving the way for a diverse city of the future. "We feel we are in front of a period characterized by a conjunction of houses with similar characteristics spread through several urban communities, based on new paradigms where clients and professional figures are often the same person," she said. "We are interested in studying such diversity, such a plurality related to the use and formation of buildings."
Lostri focused on typology, the development of urbanism in Buenos over the past four centuries, approaches to urban planning and the relationship of individuals and communities to public and private space. He also explored how each of these approaches to characterizing the city relates to critical factors including people, culture, territory and contractors.
The accompanying exhibition, curated by Gimenez, showcased 12 examples of recent low-rise housing projects by various Argentinian architects. The exhibition conveyed the diversity of approaches to housing solutions in today's Buenos Aires, exposing students to ideas that might serve as inspiration for the problems of Beirut's urban growth.
The lecture and exhibition were attended the Ambassador of Argentina to Lebanon Ricardo S. Larriera and his wife. "The works on display may probably form some of the pillars or foundations of the future Buenos Aires," the ambassador said at the opening of the exhibition. "This is an exciting task for those who study habitat today… We hope that this exhibition will drive interest and stimulate critical thinking in the new generation of Lebanese architects."