From Studio to Market to Classroom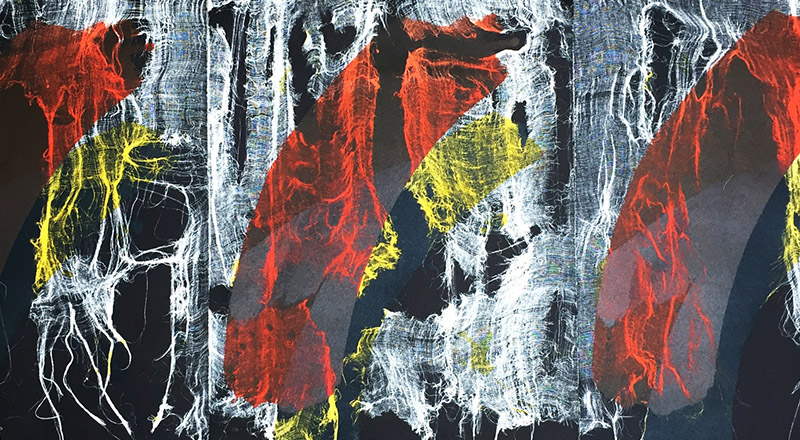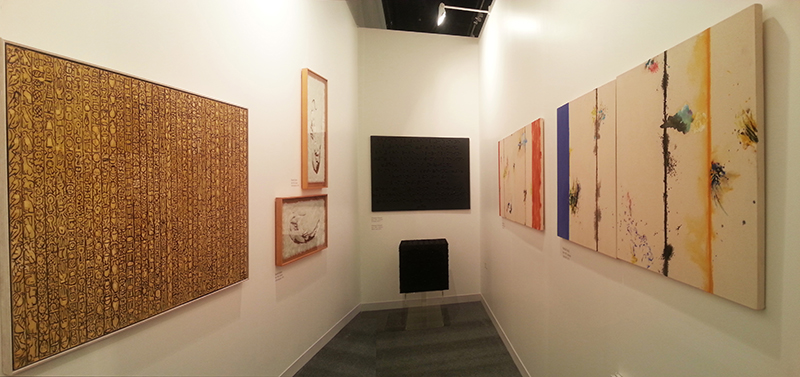 In addition to a commitment to teaching, the faculty of LAU's Department of Fine Arts & Foundation Studies are consistently creating and exhibiting; showing their work in galleries, publications, and in major art events in the region. That the department's faculty are often included in international shows and are represented by well-known local galleries is a hallmark of an LAU fine arts and design education.
"The department is committed to having its faculty actively engaged in insuring a prominent presence in the international art world - as leading artists and educators" says Ms. Silia Abou Arbid, Interim Chair of the Fine Arts and Foundation Studies Department.
Regularly exhibiting ensures the faculty are connected and in tune with the influences and dynamics shaping the art world their students will be entering when they graduate. "Art practice, at LAU, is inherent to scholarly work," says Abou Arbid.
Bassam Geitani, who teaches courses in Fine Arts, agrees, "Being dynamic in my job as an artist gives me a self-confidence that is reflected in a quality of teaching. I have to be a good example for my students to establish a sense of trust, respect, openness, and concern for the well-being of the students and create a good relationship." Geitani's most recent show, Shathaya, was installed at Beirut's renowned Galerie Janine Rubeiz.
Assistant Professor, Hanibal Srouji, has been represented by Galerie Janine Rubeiz since 1997 and recently had a book published on his work by the gallery entitled, Hanibal Srouji: Painting Fire, Water, Earth and Air. His work has seen great success across the region and all over the world, "For me, painting is a necessity, my work is always linked to the history of Lebanon and to the Middle East in general."
Zeina Badran, another faculty member, has had her work shown at the annual Beirut Art Fair several times, most recently in 2013. "The experience is great," she says, "Seeing people's reactions is very nice." Yet there are inevitably expectations and trends that shape a market and effect the reception of an artist's work. "My work is appreciated mostly by art collectors who like to see something new, not by people who just want to see a nice painting. For me it doesn't matter, I just do the work I want to do. "
"I've had my work called macabre," says Rached Bohsali, "This is simply what I'm feeling, this is what is in my soul." In his view, shared by Bassam Geitani, the art market environment in Lebanon is stagnant, beleaguered by a struggling economy and competing influences, "But artists are still working," he continues,"because they have something to say. It's not a commodity you buy it's a language you use. It's a message that we have to share."
Bohsali is a painter, architect and Associate Professor in Foundation Studies. Among his many accolades he was recognized by the Prince of Wales and Secretary General of the U.N. as one of 12 Prizewinners of the World-Wide Millennium Painting Competition in order to commemorate the new millennium. He is also represented by Galerie Janine Rubeiz and will be exhibiting his work Beyond Realism, a collection of drawings and paintings rooted in the socio-political realities of Lebanon and the region, from the 4th of May.
There has, however, been a growing interest in new and challenging mediums and themes in the region's art scene according to one of Lebanon's most prominent and prolific painters, and former LAU faculty member, Chaouki Chamoun. In an interview he gave just before retiring this summer he said, "People are getting involved in all different kinds of art now, from painting, to sculpture, to illustration, to video art, to installation, to street art… Look at what's happening in the auction houses. They are bringing values to paintings in the Middle East that they didn't have 10 or 15 years ago."
Christine Kettaneh who teaches at LAU's Byblos campus, combined tradition with new technology in her sculpture work A Beirute, with a mayo blessing where words were laser inscribed onto traditional Lebanese flatbread. For this piece, Kettaneh was awarded 'Overall Winner of Sculpture & Installation' at the Arte Laguna Prize in Venice in March 2015. She said of her work, "…through writing I tried to make a connection between that sandwich and what the city of Beirut is, comparing the spaces in the city with the spaces inside the sandwich."
Niloufar Afnan teaches classes in graphic design, fashion design and Fine Arts & Foundations studies. Her work was featured at the Beirut Art Fair two years ago and at Warehouse421 in Abu Dhabi in November 2015 where she launched her jewellery collection, Cactus in Bloom. "This collection is based on comfort and function," she said, "I took my market more into consideration." She agrees that the Lebanese and regional market is embracing new styles, saying, "The public is very design driven, they are a lot more open and absorbent to art and are willing to discover new artists."
That being said, whether or not she takes the public into consideration depends on the piece, the medium and the context. "When I'm designing furniture I don't care if it doesn't sell, I'm just doing it for me."
This dynamic between an artist's intimate relationship with inspiration and creating something with an audience in mind is something aspiring artists must learn to balance, but for Afnan, when she is teaching, the studio is a space to experiment and explore.
Bohsali agrees, and emphasises that teaching is a creative exchange, "I'm challenged by my students every minute." For him, art education, not just for artists but a whole society, is even more important than making art itself, and certainly more valuable than material success in the art market. "Producing a generation that understands art is so important, because what remains of a civilisation is its philosophy and art."