Local and Global: Faith, fashion, and artisans in the Middle East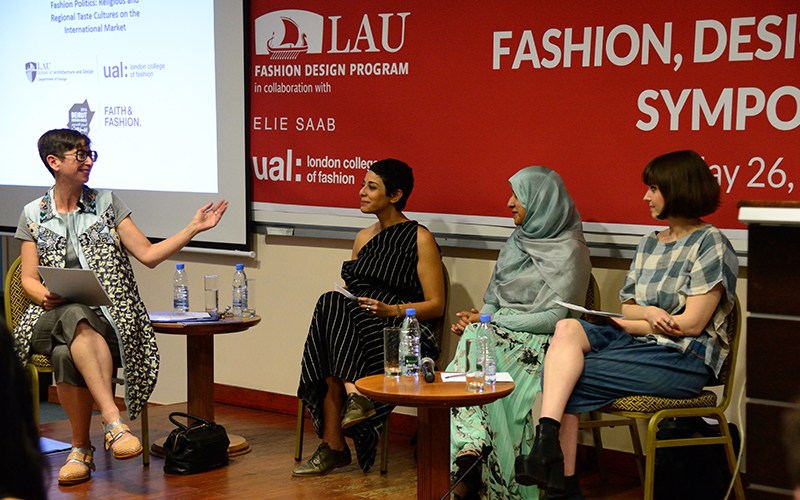 As part of Beirut Design Week, LAU's School of Architecture and Design organized a two-part panel discussion exploring the themes of identity and changing design practices in both global and regional fashion. The event was hosted in collaboration with London Collage of Fashion, UAL.
"We're interested in more research in fashion design, not only in fashion-shows or producing garments, and we're also interested in encouraging students to think about the industry before they start designing," explained the Chair of the Department of Design Yasmine Taan, discussing the thinking behind the panel discussion.
The first talk brought together prominent local design names Johnny Farah, maker of high-end handbags, Sarah Beydoun of Sarah's Bag, a social enterprise fashion house, and Middle East correspondent for Women's Wear Daily Ritu Upadhyay. The discussion, led by Taan, explored ideas of how designers and producers from around the Middle East are translating local themes in design into a global industry.
"Part of the [course] curricular is about encouraging local artisans in the production and we're interested in building world class designers that reflect the heritage, craft and history of the region," explained Tann, as she talked about the selection of panel members. Both Beydoun and Farah have built different but compelling methods of harnessing local Lebanese talent into a global fashion brand.
"I didn't want to produce a product that you buy out of charity, I wanted to produce a product that you want to own regardless of the story behind it," explained Beydoun of her enterprise Sarah's Bag, that helps women prisoners in Lebanon develop skills and earn money. Working in a number of prisons across Lebanon, Sarah's Bag produces handbags and accessories that retail across the region, Europe, and the US.
Designing for a local, regional and international market simultaneously has its challenges according to Beydoun. "On a Paris trip I presented…too much with a regional influence, I needed to have a stronger focus to catch the eye of the buyers," she explained. She has since found ways to streamline the production and target designs to the right market.
Pharrah agreed, but added that Beirut was an ideal place to work from. "You can work here, sell abroad, but you need to travel a lot to get inspiration," he said. After starting his career in Europe and then moving to the US, Pharrah moved back to Beirut after the war to "be part of the rebuilding of the country." An unexpected benefit of this, he says, is that Lebanon's compact size means he can meet with his workers, suppliers, and buyers all in the same day and doesn't have to travel long distances. However, he admitted that designers have to travel as Lebanon just doesn't have the weight to bring the international fashion industry here.
Upadhyay expanded on the regional context, explaining that in Dubai the international fashion market has found something of a home. "Dubai is a hub because it's a commercial centre as well." However, she touched on the changing landscape of the region as a developing powerhouse of trade, industry and – importantly – fashion. "What do people want to know about the Middle East? Business opportunities, designers and the growing [number of] consumers. The world's eyes are on the region commercially."
This idea of the Middle East as a developing market was explored more in the second panel. Chaired by Reina Lewis, professor of cultural studies at LCF, she brought together Cynthia Chamat, the owner of the Beirut based store Boutique Hub, Shelina Janmohamed, vice president of Ogilby Noor – the Islamic Branding arm of Ogilvy and Mather, and Kendall Robbins, Fashion Programme Manager at The British Council.
"With global fashion brands recently constructing Muslims as a consumer segment, I wanted our second panel to explore what this might mean in the Lebanese context where different faiths, nations, and ethnicities have fed into such a rich creative mix," Lewis explained.
During the panel discussion, entitled Faith and Fashion, Janmohamed painted a picture of the Middle East oft absent from the media. Far from only a region of turmoil, she described a growing, increasingly prosperous, and affluent market that is beginning to be recognised by international fashion companies. However, this comes with a new set of challenges as local contexts are important.
"90% of Muslim women surveyed say that religion affects their fashion choices, this needs different messaging [in advertising], it's about inner beauty not external ostentation."
But she said that this requires inclusion of Muslim women's voices in the messaging, saying that "it's not about just marketing for Muslim women, you need to include them in your messaging."
This idea was picked up by Chamat, although she tends to take a different approach. "I make clothing lines for all body types, all cultures, and all backgrounds – humble, democratic, and anti-elitist."
Chamat chose to open her boutique on Beirut's old demarcation line between the east and west. "I don't prescribe what style is for what [sect or religion], many conservative clients don't feel that they are welcome in 'cool shops' but I have to break down this pre-conception."
The panel clearly showed the divisions within the Middle Eastern fashion market – an industry that is expanding quickly but remains un-explored by major fashion players.
The is an opportunity for the smaller, regional players but there are still challenges. Robbins highlighted described what is needed to improve the current situation.
"There's a lack of infrastructure in manufacturing, training, government support, and stable local markets," she explained. "But Lebanon is doing much better than many places – Morocco only has one design school and it's struggling to compete with the rise of fast fashion. In Lebanon, LAU is really exciting in the work it is doing."
Following the panels, the school showed a video of the designs by LAU fashion design students and announced the winner of the year's work. An independent panel of judges selected second year Fashion Design student Majd Daher for his androgynous, gender-crossing garment Rachel and Blue. "The theme was crystals and I went to the Mineral Museum (MiM) and saw a crystal called Rachel. But it had a blue colour and its very masculine but the name Rachel is very feminine. I decided to [blend] the two together and make something wearable by any sex – men and women," Daher explains of the thinking behind Rachel and Blue.
Tann described how its not just the students that are really proud of their work but also the judges who were were blown away by the quality of the garments being produced.
"One seller said this is the first time she has seen this level of quality at this stage [of careers] in Lebanon," said Tann, adding that she sees this as a good yard-stick of how well the course – now in its third year - is progressing.