Roots in Beirut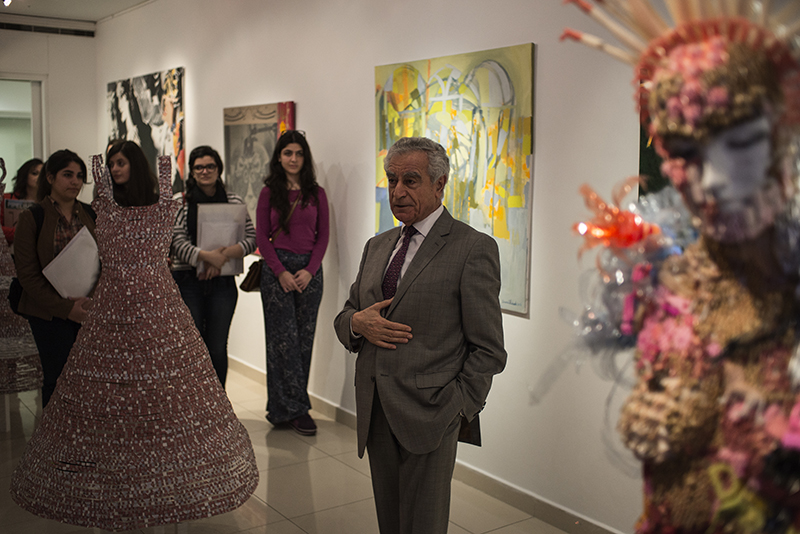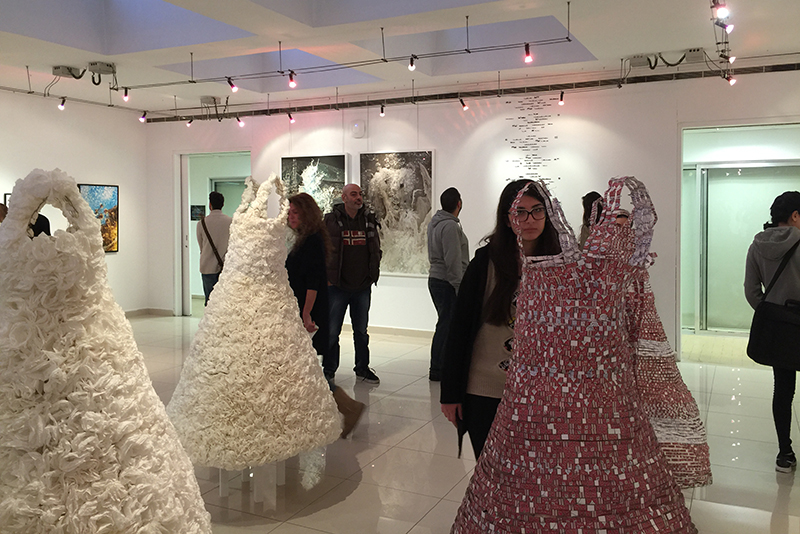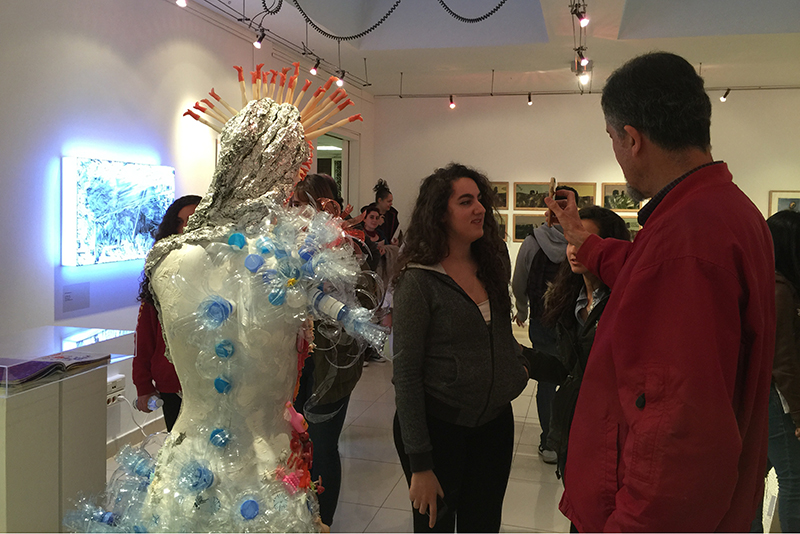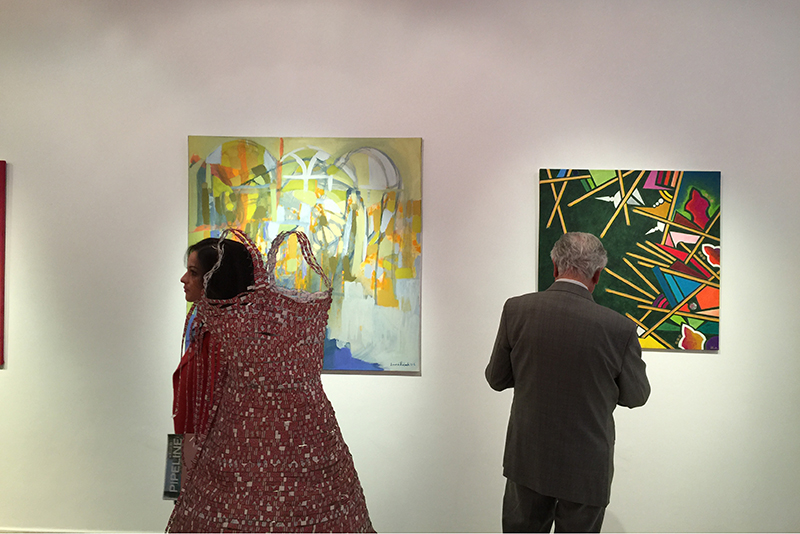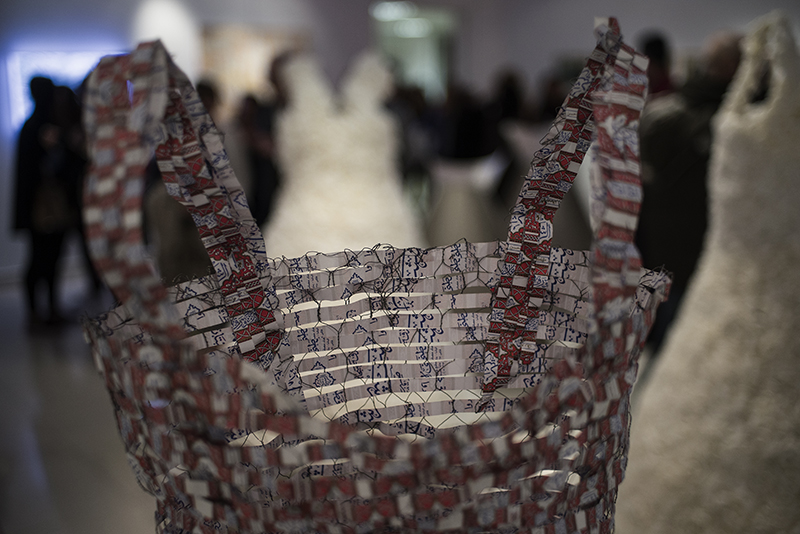 The event kicked off with an opening lecture by contemporary visual artist Marya Kazoun. Kazoun graduated from LAU in 2000 with a degree in interior design. Her art blurs time, space, and reality, by creating large interactive worlds featuring surreal landscapes. The pieces are often made with recycled materials, with the human body at the center of the piece, often featuring Kazoun herself. Kazoun's creatures play on the edge between the 'grotesque' and the 'sensual', calling into question our perceived notions of art. Her work has been displayed all over the world – in Venice, New York, Dubai, as well as in Beirut.
"The teachers here were fantastic. I had a great time, and learned a lot. A lot of what I learned shaped me and shaped my practice," Kazoun said, recalling her time spent at LAU.
Following Kazoun's lecture, guests made their way to the main alumni exhibition in the Sheikh Zayed Hall. Here, the works of 16 alumni artists were on display in the central room, packed to the brim with spectators and students.
President Joseph Jabbra, officially opened the exhibition with a heartwarming speech on the importance of art for our contemporary world. Jabbra was joined by the School Dean Elie G. Haddad and the Interim Chair of the Fine Arts and Foundation Studies Ms. Silia Abou Arbid, who oversaw the organization of the event.
"One nice thing about LAU, and their fine arts alumni, is that they really keep a tight bond with their school. When we call them for an event, they usually respond," said Abou Arbid, mentioning that they hope to include more alumni in each new event, but noting that a larger venue would be needed.
The artwork on display was diverse, featuring everything from sculpture, painting, photography and installation pieces. Alumna Tuline Hammoud featured human-sized mannequins decorated with Barbie dolls, plastic guns, toy horses and alphabet letters, which stood in the corner of the exhibition hall. Also at the center of the exhibition room were several pieces by Liane Mathes Rabbath. Each piece was in the form of a dress, made of small strings of colorful paper and resembling works of detailed origami.
Diverse painting approaches were exhibited, from Philippe Aractingi to Dalia Baassiri, Wissam Beydoun, Ilat Kneizeh, Mona Jabbour, Usra al Madhoun, Mireille Merhej, Alia Noueihed Nohra, Louma Rabah, and Doreen el Zein, each each taking a different path to the representation of reality.
Alia Noueihed Nohra, for instance, created a 12 piece series depicting Beirut's Raouché rocks. Each piece representing a different memory of the same object, focusing on fluidity and diffuse nature of childhood memory. Lebanese filmmaker Philippe Aractingi – an alumnus who has represented Lebanon at the Academy Awards – displayed an abstract print of a vibrant yellow flower, simply titled "Stains".
In a small display case sat a book made of fabrics, created by Randa Abdel Baki. She used textiles to design a small fabric book, with each page featuring detailed embroidery and short-form poetry.
Conceptual art had its place, with a work by Lana Charara entitled 'The Key Tree', composed of branches on which different keys are suspended, and another one by Christine Kettaneh, called 'Time cutting time', an installation featuring a cryptic arrangement of fragments that reflect on the notions of loss, and recovery. Yasmine Taan, on the other hand, chose to present a 1930 period photograph of a woman looking through a phoropter, framed by a traditional embroidery as an invitation to rethink the inherited power relations and the position of women in society.
The exhibition featured a variety of works that confirmed the vitality of the Fine Arts program at LAU, and its central role within the School as a catalyst of new ideas, opening towards the provocative search for meaning in our contemporary world.