Fine Artworks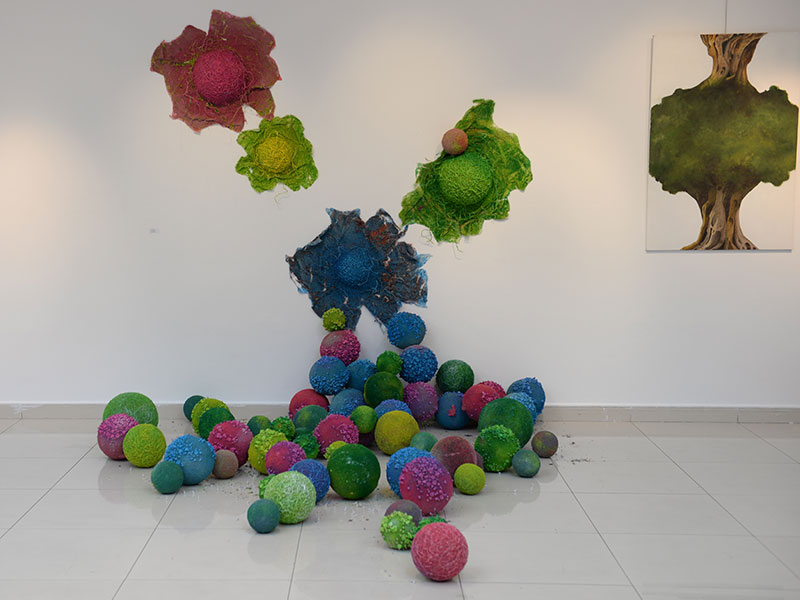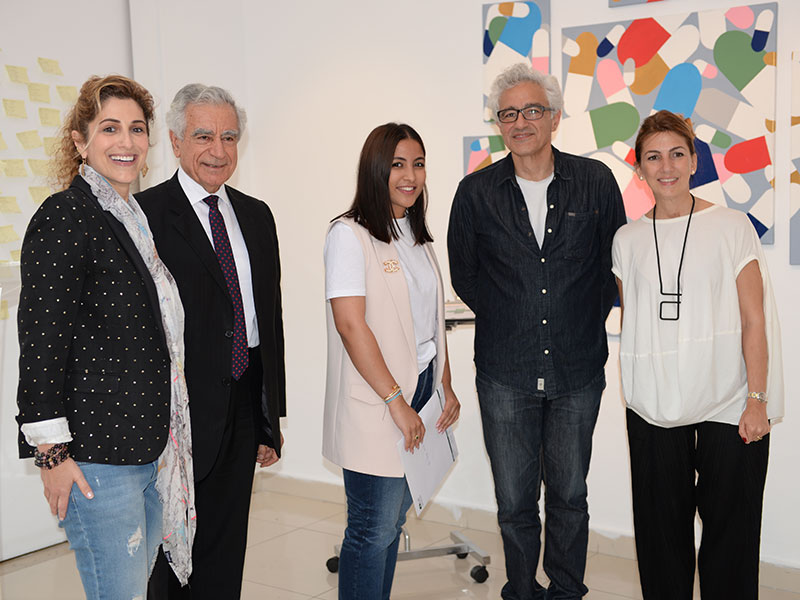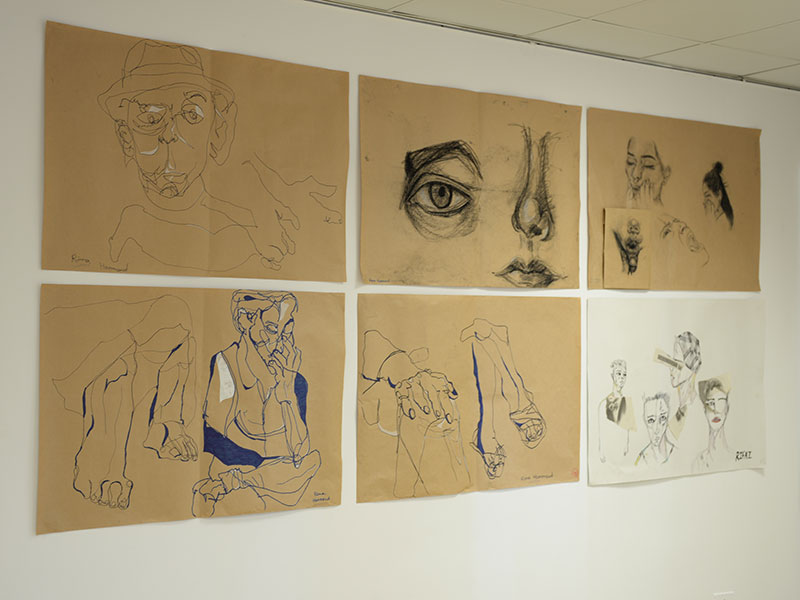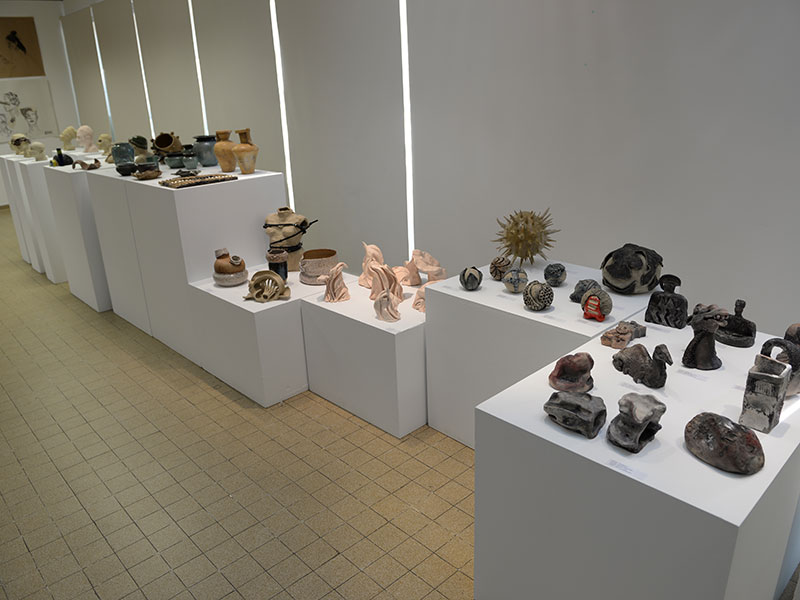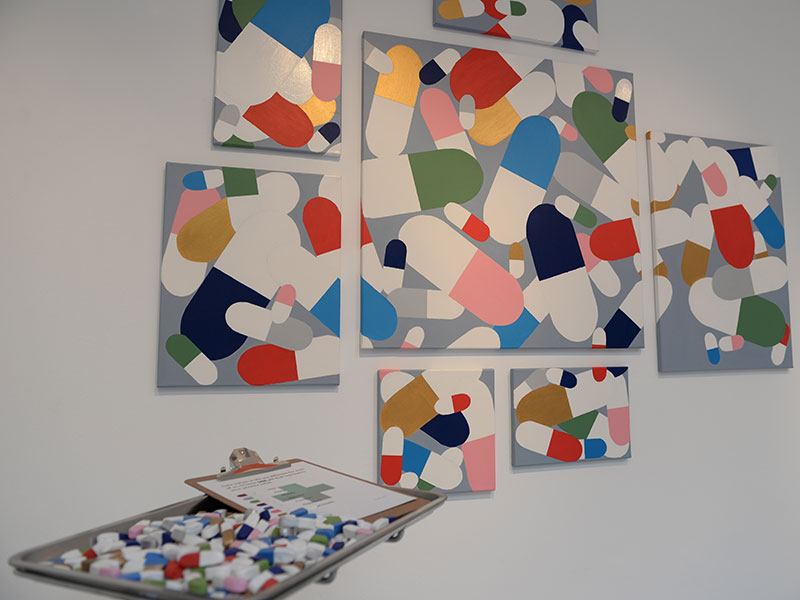 Jabbra recalled being asked about fine arts when he first interviewed for his post: "My answer was very quick, 'We need the fine arts, the arts in general, to keep us civilized.' And today I feel so civilized in your presence, looking at these artistic pieces around the walls."
Jabbra called the assembled students the pride of the university and congratulated faculty and staff, citing their "passionate commitment to excellence."
"That should really be the drive, for all of us to continue to excel in everything that we do and to serve society," he told the crowd assembled on the gallery floor.
The exhibition, timed to coincide with Beirut Design Week, highlighted the breadth of work created by students, from introductory-level drawings and paintings to advanced ceramics, photography, installations, sculpture and conceptual work. For the first time, the show incorporated work from students majoring outside the discipline, drawing from the total output of the department's more than two dozen offerings.
Jabbra awarded the department's certificate of excellence for best performance in the arts to sophomore Rayan Hashim. The fine arts major exhibited an interactive project which incorporates viewer participation.
"My project is about core values in life, and how they differ from one person to another," said Hashim.
Viewers pick out a hand-made pill out of clay, representing either love, peace, money, stability, happiness, or good health, forcing them to consider how they weigh the relative importance of such benefits, as well as how others do.
"I related it to pills because it is like with medication - lets say your head is aching, you go take a specific medicine for your headache. So the viewer comes and chooses what will make them feel better."
Viewers are encouraged to take the pills home with them, and to fill out and display a sticky note with words they relate to each of the respective values. Together, the sticky notes create a tableau of different associations, demonstrating how these vary across age and gender. Hashim's project also incorporated a number of dazzling paintings of tessellating pills.
Ahead of the opening, a keynote lecture was given by fine artist and singer-song writer Tania Saleh. The LAU alum described her multifaceted career in the arts, ranging from cartoons, advertising, and album covers, to her successful music career and recent projects incorporating street art and video.
Saleh's lecture documented her experiences across this wide range of projects and professions, highlighting the demand for creativity and artistic ability in different fields and offering students a glimpse of the many ways they can leverage the techniques and visual understanding they gain through a fine arts education.
She also conducted a four-day multidisciplinary workshop with students, entitled "Audio Loves Visual," which explored the nexus between the two mediums. Students created album covers, logos, posters, and t-shirts, exploring everything from how to market psychedelic Fayrouz mashup albums to how to make classical music more accessible to young people.
Saleh emphasized that the rapid consumption of information, particularly across digital platforms, creates a heightened demand for people who are familiar visual language and trained in how to represent ideas creatively.
"We are living in a time of innovation, and every second there's something new. You have to do a visual for Instagram, another for Facebook, one for Twitter," she said.
"The visual identities that we were brought up with… its totally different now and [you need] more of them. And you have to always be creative because otherwise no one will see them."
Art and Design department chair Yasmine Taan said its important for students to learn about the number of careers that are open to them, and the number of ways in which art and design training play a central role in success.
"Art empowers marginalized people - art in the world is about conceptualizing, is about critical thinking, is about different ways of addressing topics that are not being dealt with properly by people in authoritarian positions."
Taan believes strongly in a multidisciplinary approach, arguing that there should not be a hard line drawn between fine art and design. Next year the department will launch a master's program in visual narrative and storytelling, including comics and sequential art.
She says the skills students acquire through the programs extend far beyond the scope of art and design.
"Art is not only about making things beautiful, it is about teaching people to work together, to work as a team, to be patient."