The Sixth Edition of the Fashion Design graduating class of 2023 unfolds its collections at the Rooftop of the Gezairi building under the theme: REAL TIME.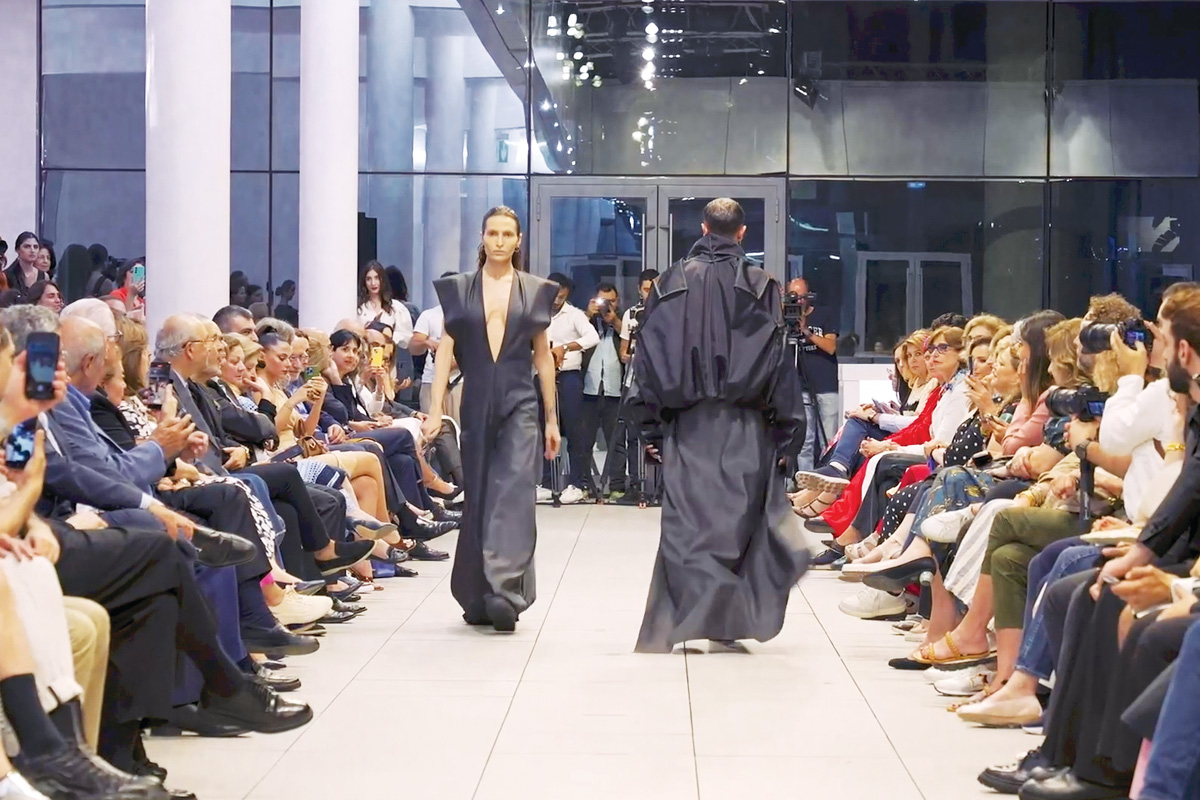 On June 12, 2023, LAU's fashion design program held its 6th runway event staging the final collections of 10 graduating students. The event took place on the rooftop of the Gezairi Building on the Beirut campus, and was attended by Honorary Chair Elie Saab, LAU President Michel E. Mawad, Provost George E. Nasr, Dean of the School of Architecture and Design Elie Haddad, vice presidents, deans, faculty alongside a large audience of professionals and media representatives. Alumna Roula Bahnam (BArch '98) emceed the event.
This class of graduating students embarked on investigating the relationship of clothes and temporality under the mentorship of visiting professor Cedric Jacquemyn from Antwerp and LAU's faculty members Jalal Moghraby and Elie Baroud. Three outstanding graduates were recognized for their exceptional work.
Luna Karroum earned the Prix du Jury, presented to her by Elie Saab which includes a 6-months internship at Mr. Saab's Atelier. Her collection, Untitled, explores the notions of refugee status, inspired by her own parents' experience. Determined to transmit a positive outlook, Karroum adopted an approach of "hedonism for exploring the unknown," modeling a dystopian interpretation of glamour.
Lana Dakkour earned the Excellence in Craftsmanship Award, presented to her by Program Director Silia Abou Arbid. For her collection, Least Common Denominator, she explored religious depictions of heaven and hell, as well as the purification phase that is believed to follow death. "The collection is very ethereal, and references ascetism – the removal of all earthly indulgences to reach the ultimate 'self'," explained Dakkour.
Fadia Darwish earned the Excellence in Concept Development Award, presented to her by Chair of Art and Design Hanibal Srouji. Her collection, Just Kidding, mocks the fancy and luxurious approach to fashion. "My collection mimics a child's view of this world, in how they are free-spirited and oblivious to over-spending," said Darwish.
Real time, as Osho would say, "is not a process. It is a simultaneity. Future, past, present are not three separate things, so there is no need to join them. It is an eternal now, it is eternity." On that note, this year's promotion marched forward to carve their niche in the world of fashion, and begin their journey of career development.
Click here to view the Fashion Show's video